Lecture - From Aphrodite to Katniss: The Evolution of Women in Literature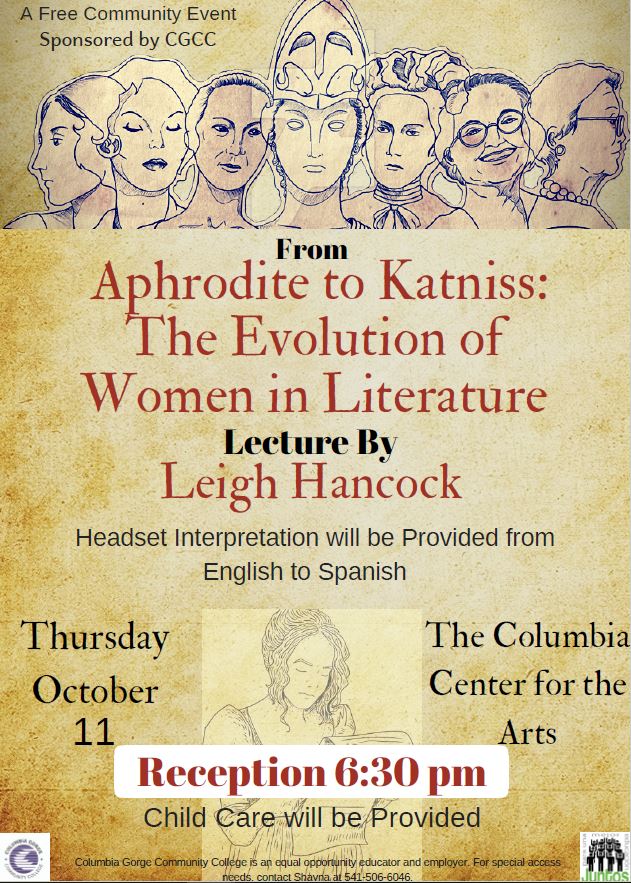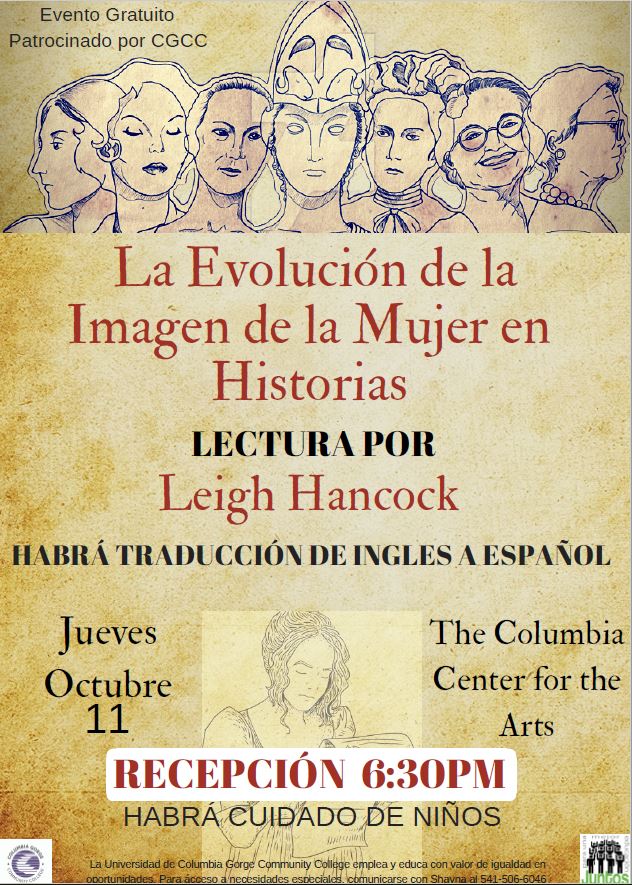 Contact
Kelly Sullivan
Academic Advisor
kmsullivan@cgcc.edu, (541) 506-6022
Susan Lewis
Director of Curriculum & Assessment
slewis@cgcc.edu, (541) 506-6047
October 11, 2018, 6:30 pm
Columbia Center for the Arts (215 Cascade Ave, Hood River, OR 97031)
You are invited to a cultural bilingual lecture, about the evolution of women in literature. The lecture will be about how women have been presented –by male and female writers—from Greek times to the present. From Aphrodite to Mother Mary, to Lady MacBeth, we will explore how women have been portrayed in the house, on the creative side, and their independence as human beings.
Stories are powerful, in that they reflect, shape and challenge our sense of the world. The role of women in our society has been defined, reflected, restricted, and (occasionally) challenged by the narratives we share about who women are and what they should be.
The lecture will be on Thursday, October 11. Reception starts at 6:30 pm and the lecture starts at 7:00 pm.
CGCC wanted to make sure language was not a barrier to learning, so there will be headset interpretation from English to Spanish.
Childcare will be provided.
Please join us and CGCC English Faculty Leigh Hancock for a lively, multi-media exploration of how centuries of stories have shaped the reality of American women today.
Presenter Biography:
Leigh Hancock is a full-time faculty and chair of the English Department at CGCC, where she teaches writing, literature and gender studies. A professional storyteller and writer, Hancock is fascinated by the intersection of story and reality in all facets of life. As an avid hiker, biker, and backpacker, she is always looking for trail buddies who can set a good pace and tell a good story!
La Evolución de la Imagen de la Mujer en Historias, lectura por Leigh Hancock
Hola, ven y disfruta de una lectura bilingüe sobre La Evolución de la Imagen de la Mujer en Historias. En la lectura se hablará de como la mujer ha sido representada por escritores de ambos sexos, desde los tiempos griegos hasta la actualidad. Desde Afrodita, la Virgen María, hasta los personajes de Shakespeare. También aprenderemos sobre como la mujer ha sido visualizada en el hogar, el lado creativo, y hasta su independencia como ser humano.
Las historias son poderosas, ayudan a ver, formar, y a desafiar como vemos el mundo. El papel de la mujer en nuestra Sociedad ha sido definido, impuesto, restringido, y (ocasionalmente) retado por las narrativas que son compartidas sobre como son y deberían de ser las mujeres.
La lectura será el jueves 11 de octubre. Y la recepción empezara a las 6:30 pm y el evento a las 7:00 pm.
Ubicación: Columbia Center for the Arts (215 Cascade Ave, Hood River, OR 97031)
CGCC quería que el idioma no fuera una barrera para aprender, por ende habrá interpretación gratuita por medio de audífonos .
También habrá cuidado de niños.