Caregivers Creating Healthy Environments and Relationships Session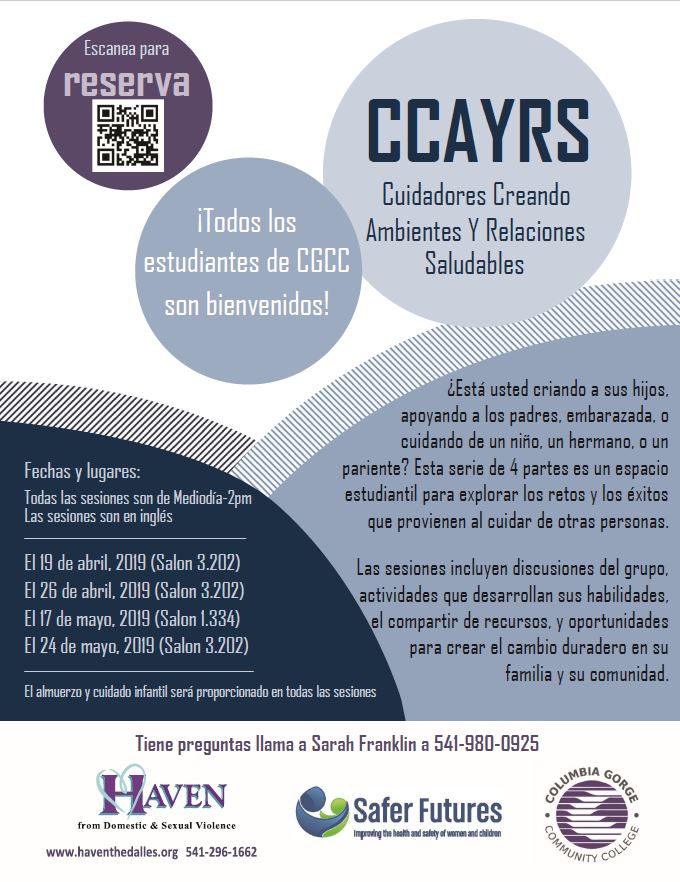 Contact
Mike Taphouse
Dean of Students
mtaphouse@cgcc.edu, (541) 506-6026
Maria Peña
Success Coach
mpena@cgcc.edu, (541) 506-6024
May 24, 2019,

12:00 pm

to

2:00 pm
Dear students, 
Are you parenting, supporting parents, pregnant, or taking care of a child, friend, sibling, or relative? Come join us at CCHEAR, or Caregivers Creating Healthy Environments and Relationships. Caregiving takes many forms, and we can all work together to promote a healthy community for those we care about.
There will be 4 Friday sessions over 2 months, open to all students. Attend one or all four parts!
April 19, 2019 (Classroom 3.202)
April 26, 2019 (Classroom 3.202)
May 17, 2019 (Classroom 1.334)
May 24, 2019 (Classroom 3.202)
We encourage everyone to RSVP 
by following this "RSVP" link and filling out the RSVP form.
 If you aren't able to RSVP in time, still feel free to drop in! However, if you will need childcare, we ask that you RSVP so we can plan ahead. Lunch will also be provided.
We hope to see you all there!
Haven