Bi- a Teatro Milagro Production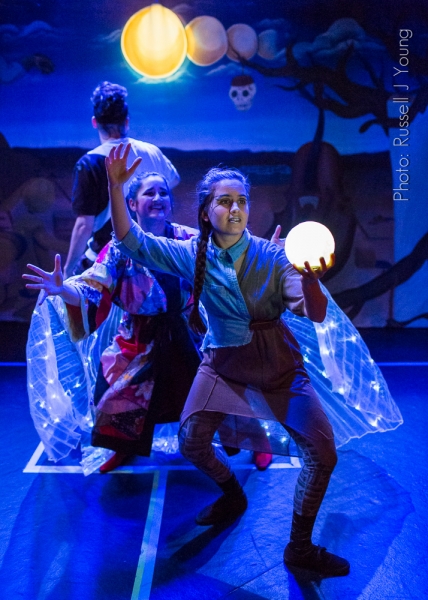 Kenyon Acton and Sierra Bramila as Hex and Isa in Teatro Milagro's production of Bi-
photo by Russell Young
Contact
Susan Lewis
Director of Curriculum & Academic Assessment
slewis@cgcc.edu, (541) 506-6047
April 26, 2018,

6:00 pm

to

7:30 pm
Bi-
National Touring Production
Written and Directed by Georgina Escobar
Choreographed by Gabriela Portuguez
Join us to experience the world premiere of the bilingual production, Bi-. Teatro Milagro is a performing arts company that provides extraordianry Latino theatre, culture, and arts education experiences for the enrichment of all communities. Columbia Gorge Community College is proud to bring them to the Gorge again to share their performance. The play is bilingual in English and Spanish.
About the Play
Inspired by the book Flatland by Edwin Abbot. The year is 2089 in Tierra Plana, a new nation of squares, walls, and all sorts of boxes; a place where individual categories are pre-determined. Four friends: Fig, Noir, Isa, and Hex, are preparing for the day they receive their identity bracelets. Nervous about not fitting in, they escape to the desert and discover the mystery of the past hidden in boxes from the U.S. Census Bureau. Bi– will break open the boxes of selective classification and raise the question: What is your bi-dentity?
"This piece uses mathematical and geometrical metaphor as well as inspiration from interviews from people in the community to tug at the heartstring that often makes us feel a little too much like 'the other.' Bi– is simply about expansive thinking and it will challenge its audience to join a ride that could feel strange and foreign, but then again, isn't that what all people who claim a dual identity (bi-nationals, bilinguals, bi-cultural) have to navigate in dealing with a homogenous society?" — Georgina Escobar, playwright
Bi– is paired with Teatro Milagro's UNIDAD curriculum in which students take theatrical workshops that address bullying, harassment, and student isolation by focusing on themes of identity, inclusion, and community support.