Refund Policy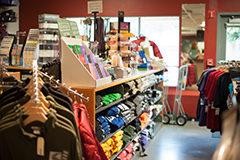 CGCC Photo/Michelle Bose
The CGCC Bookstore accepts returns of undamaged, unworn, unwashed or defective new merchandise purchased online or in-store within 14 days of purchase with receipt.
New books must remain in original condition, including in-tact shrink wrap where applicable. Used books cannot be returned or exchanged, except with receipt between start of term and the last day to drop classes for that term.
All refunds will be credited to a student account. No cash refunds.The bookstore does not give cash back. If you made a purchase using cash, you will receive a refund on your student account (payable by check).
Non-students who purchase using cash will receive a check from the business office.
All sales on software, media and sale items are final.