Book Buyback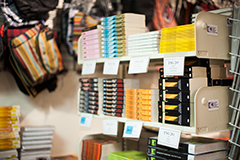 CGCC Photo/Michelle Bose
Book Buyback
Previously purchased textbooks in good salable condition may be eligible for a credit of 30% of the current retail price.
Damaged books, books no longer in use, and books with required access codes are not eligible for buyback.
Buybacks available at The Dalles campus only. Please call 541-506-6061 to arrange book buyback for the Hood River campus.
No cash refunds.