Learning Communities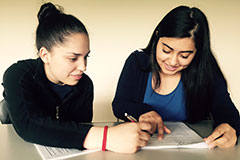 Student studying together
CGCC Photo
What is a Learning Community?
A Learning Community is a group of courses designed specifically to enhance student success. Learning communities allow for greater mastery of academic material, and enhance connection between students, faculty, and the greater college community. Students enrolled in learning communities partake in these grouped courses in a cohort model of learning - that is, the same students take the same courses for fall and winter terms of their first year at CGCC.
Why join a Learning Community?
BETTER GRADES | Students enrolled in CGCC's Learning Communities earned almost a full grade higher than their peers not enrolled in the Learning Communities. With time set aside in the Learning Community lab (workshop), students not only get direct access to faculty, but also peer-to-peer academic support.
DEEPER UNDERSTANDING | Students continually praise the Learning Community model as essential for academic mastery. Additionally, it allows first time- and returning students to acclimate to the college environment. Starting school can be scary, stressful, and exhilarating - our Learning Community faculty understand this, and are here to support your transition to college. We want you to achieve your goals, and participating in a Learning Community can assist you in reaching each of them.
GREATER CONNECTION | Learning Community students speak highly of the friendships they make in the cohort model (where they study with the same group of students for two terms). In addition, they cite feeling more deeply connected to and supported by their faculty and the greater college community. Learning communities offer the chance for faculty to get to know your learning styles, strengths, and challenges in a way that is often impossible without the dedicated time of the Learning Community.
CONTINUED SUCCESS | Students who feel engaged in their coursework and classroom communities continue with their studies far longer than students who do not have this experience. Learning communities help you successfully fulfill all of your dreams. This is just the beginning.
Don't just take our word for it
From past Learning Community students:
"I wouldn't have felt as confident to start this amazing journey in my life. The Learning Community gave me the ability to be successful in college, and it has helped me with my direction and goal of achieving my degree later this year. If I wasn't involved in the Learning Community, I am confident that I wouldn't have been as successful in my overall journey in my college experience. I am certain that if I didn't use the Learning Community, I wouldn't have been able to accomplish the grades I have been seeking to achieve in all of my college classes. I have seen firsthand how the Learning Community brings people together in a positive way. It genuinely helped me as well as others in numerous ways." -Nikkie Gross
"The Learning Community helped me stay on track, and I got amazing ideas from my other peers. The Learning Community made it easier for me to be comfortable in my surroundings, while I helped others be at ease about their first term here at CGCC." -Leslie Ramirez
"I have personally found the Learning Community very efficient and helpful. My biggest struggle was writing, and here (in LC) I got the extra help I needed from Tim Schell and Jenn Kamrar. We didn't just do homework, but worked together to help each other understand the concepts. If it wasn't for the Learning Community, my writing would have never improved the way it did." -Ariana Sedano
"Learning communities are very helpful because students get more explanation if we didn't understand something. We also get to learn about other resources that the school provides. We get to interact with new people and help each other out on homework." -Guadalupe Munoz
"When I attended classes, I found the Learning Community to be so helpful. It gave us students that extra one on one help with assignments. It helped me tremendously. I assure you I am not alone in feeling this way." -Laurie Hicks
Learning Community Logistics
Fall Learning Community
In fall term, students co-enroll in Introductory Writing (WR 90), Transformative Reading (RD 90), and College Survival and Success: Personal Responsibility (CG 101). Additionally, Learning Community students meet for three hours a week outside of these classes in a free, one-credit English Skills Lab (ALC 51) where they work collaboratively to further digest their assigned work.
Winter Learning Community
During winter, the Learning Community cohort continues to meet in English Skills Lab (ALC 51) as they progress to the next set of grouped courses: Intro to Expository Writing (WR 115), Critical Reading (RD 115), and College Survival and Success: Personal Responsibility (CG 101). By the end of winter term, students are prepared for transfer-level courses and may choose to continue their foundational studies in English Composition (WR 121).
But what do learning communities really look like? feel like?
Academically
Academic material and skill-building between your three courses may - and will - often overlap. For example: You show up to your college success course and learn how to take three different types of notes. When you arrive in your reading class, you learn how to critically engage texts through annotation (another form of note-taking). Finally, you arrive in your writing class where you are asked to read and respond to an essay - and, here, you can pull from your various new skill sets of note-taking and text analysis to actively understand the craft writing.
Socially
We spend a great deal of time together in our cohort (co-enrolled group of students), and often times, people develop foundational relationships to serve them through their courses. Time and again, studies show that it is not money that creates student success. It's people. In fact, the largest study on community college student success showed that the most important signifier of student graduation was having someone to support them. Think of your peers in Learning Community as this support. You're in this together.