CGCC in the news - Toda receives award: College president recognized for outstanding leadership skills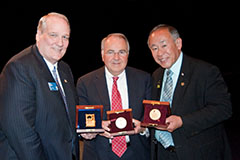 May 13, 2011
Dr. Frank Toda, president of Columbia Gorge Community College, has been given special recognition for management skills that are credited with improving and expanding programs offered to students.
Toda was one of two executives to be recognized for outstanding achievement with the C. Jackson Grayson Distinguished Quality Pioneer Medal in Pittsburgh, Penn., May 17. Also honored was Dr. Thomas Tuttle, president of Tuttle Group International, a strategic management consulting firm in Maryland.
The medals were presenting at the annual World Conference on Quality and Improvement by APQC, a nonprofit organization that promotes best practices and benchmarking, the process of comparing business performance to top industry standards.
Toda, who took the help at the gorge college in 2001, was honored for his "commitment to developing the educational organization into a national center for excellence through the application of quality methods."
In a followup statement, Toda said; "I am both honored and humbled to receive this award. It represents a bridge between the two worlds of education and quality. More importantly, it recognizes a community college that believes in building dreams and transforming lives."
He recently completed an eight-year stint as a member of the Malcolm Baldrige National Quality Award Board of Examiners. He also created a board of advisors comprised of educators from the University of Wisconsin and Richland College in Dallas, Texas, and executives from Microsoft, Boeing and Raytheon. For the past decade, the group has met each year to recommend improvements for the gorge college curriculum and operational programs.
The latest undertaking, one that has been in the works for several years, is to gain independent accreditation so that students can graduate with a diploma carrying the name of their own school. Currently, the gorge college operates under the umbrella of Portland Community College, which is already accredited, and diplomas carry the name of the metro school.
To get ready for the rigorous accreditation evaluation, Toda and other administrators began scrutinizing all college services and programs in 2006. Their goal is to implement accreditation in the 2011-12 academic year.
Under Toda's guidance, the college was one of the first three in the nation to receive the American Wind Energy Association Seal of Approval in January. That award was given for development of a renewable energy technology program that trains technicians for family-wage jobs in wind farms in the region.
The new focus on green power and sustainability programs is part of the college's goal to provide local employers with a skilled workforce. Toward that end, the college has partnered with North Wasco County School District 21 to assist with the high school robotics program and other high-tech classes. Also involved in that effort is Insitu, a Boeing subsidiary based in Bingen that manufactures unmanned aerial vehicles and The Dalles branch of Google, the multinational pubic corporation invested in Internet search.
In October, Toda was invited to attend the first-ever White House Summit on Community Colleges and discuss renewable energy training programs with U.S. Secretary of Labor Hilda Solis, U.S. Secretary of Education Arne Duncan and other high ranking federal officials.
Being in Washington, D.C. was familiar to Toda, a retired Air Force colonel who spent much of his 30-year military career at the Pentagon.
In recent years, he has been known for the silver wind energy pins in the shape of a turbine blade that he wears on his suit lapel.
He also carries the decorations in his pocket to hand out to interested government leaders and community members.
One of his top professional goals is to establish a National Clean Energy Workforce Innovation Center on The Dalles campus and broaden the number of training programs.